About "Let There Be Light" Chimney Sweep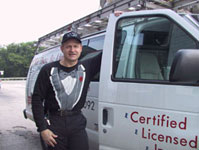 Photo courtesy of
The Chimney Sweep News
"Let There Be Light" Chimney Sweep is a family-owned and operated, full-service chimney business that my wife and I started from humble beginnings in 1983. I look forward to getting to know you, but here are the basics:
Career
I am a U.S. military veteran. I was a chemist for a number of years and had worked for a major pharmaceutical firm. Later, I was a manufacturer's representative for a few large companies in the scientific research arena and finally ended up teaching high school physics for a year. After some serious studying, I left that former life for the rooftop world of the chimney sweep, and we are now in our 38th year! I truly enjoy sweeping and fixing chimneys.
Experience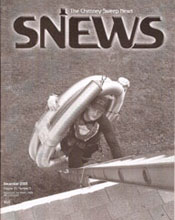 Photo courtesy of
The Chimney Sweep News
The experience and insights that I've gained, after servicing many tens of thousands of chimneys over the years, have been invaluable assets to every job I do. I've swept and capped innumerable chimneys and installed more stainless steel chimney liner footage than twice the height of Mt. Everest. Sometimes problem chimneys need a simple fix and sometimes it means a serious repair. My background has trained me to approach chimney problems with a scientific reasoning perspective, which often makes the difference.
Certifications
I have several current industry certifications, including the nationally recognized, F.I.R.E. Certified Inspector #52 and Certified Master Chimney Technician #41 credentials. I'm even a Certified Chimney Reliner. I have been certified for decades with the C.S.I.A. (Chimney Safety Institute of America) and also with the N.F.I. (National Fireplace Institute), but I have elected to drop them due to pure redundancy. While certification does not insure that a chimney sweep is a decent guy, it does say that he has proven to a testing body, for at least one time, that he should ostensibly know what he's doing, in terms of standards, codes and sweeping procedures. All things being equal, a certified sweep should almost always be a better choice than an uncertified one.
Licensing and Memberships
We have the required Pennsylvania Contractor License #PA031156 that guarantees we're covered with the appropriate business insurance for your protection and ours. Sure, we are confident members of the Better Business Bureau too.
Publication
In an effort to give back to the industry and to help many a newcomer sweep, I write for the chimney sweep trade journals and I have had articles published several dozens of times.
Interesting Tidbits
Incidentally, in 1984, I had the additional honor of winning a U.S. national trivia contest, so the service visit can be a socially interesting one too. I have learned a lot from my customers over the years.